HOLY MOTHER HAILED IN THE IDEAL HINDU TEMPLE
Founding Members Mrs. Meena Singh(left front), Dr. Gupta(center), Mr. Prithviraj Singh(behind Dr. Gupta), Mrs. Sanjogita Gupta(left back)

Reported by Sarita Gupta

The "Nada" (purifying sound) blown from the conch was the announcement
of the beginning of "Nav Ratrey".

Dr. Sunit Kumar Gupta the spokesman for the "Ideal Hindu Temple" in Pomona, CA shared
his knowledge by saying " Nav-Ratrey" singifies the nine nights of nine roops (forms) of Mahashakti Durga.
The worshipper of Mahamaya be it a simple devotee or great tantrik awaits this day in the month of Ashwin to please the Holy mother through his/her devotion, fasting, japa , rituals, donations and all such pious karmas.

"Sheronwali Ka Saja Hai Durbaar ,
Ke Mata Ke Nav Rate Aa Gaye"

This was the opening number of some of the bhaintein sang by Dr. Gupta to welcome the Holy mother. He mentioned that during these nine nights it is believed that the mother is present wherever she is called. She descends from Swargaloka to Mrityuloka to help the humanity with her blessings.

All of the nine nights the puja, bhajans, jaagran, bhaintein, garba, kanya puja and prasad became the daily ritual of the congregation.

Dushehra was celeberated on the Vijay-Dashmi (10th day).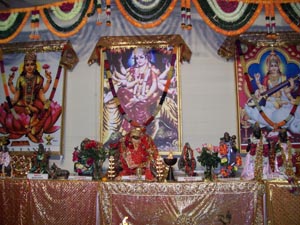 Ideal Hindu Mundir is established since March of 2008 by Federation of Hindu Associations (F.H.A.) . It is a registered non profit
organization in operation since more than last 2 decades. F.H.A. has been conducting the Jaagran of Durga Ma in Diamond Bar. Now, they have their temple at 3900, Valley Blvd., Pomona, Ca.

"We have built this temple to worship and perform Mata Ka Jagran, without any boundaries" said Mr. Prithviraj Singh one of the founder member of F.H.A.

Mr. Prithviraj Singh, Mr. Dayal Singh, Shri. Sidhartha Pathak, Mrs. Meena Singh, Mrs. Sanjogita Gupta, Mrs. Sarita Gupta, Mr. Tilak Raj Mehra, Mr. Ravi Joshi are some of the devotees of Durga Ma at the Ideal Hindu Temple who are volunteering in radiating the blessed vibrations to the community, from this temple.

Dr. Sunit Gupta is well known Globally and in the community for being renowned Vedic Scholar who professionally practices Vedic Astrology, Palmistry, Tantra and related sciences.
Gupta from his experience and wisdom has created his own style of yoga named Karayoga (TM). Classes on Karayoga, Meditation, Reiki and Ashihara Karate are being held for young and old with a spiritual touch.

Shri. Sidharth Pathak ji is the the temple priest and officiates Karma Kand-Hindu Ceremonies from birthdays till marriages. Punditji said " There is no compulsion of a
set amount of money to be paid to the organization. Simply the desire to perform puja is enough. Rest is all taken care of. We pray, sing, dance and send a positive message of Hinduism "

The Ideal Hindu Temple also holds Mata Ka Jaagran on every 4th Saturday and will celebrate Deepawali on October 28th . Everyone is invited.

"In this temple. We try to observe all the festivals and rituals right on the time (Muhurat) to get the maximum
benefits. As detailed in the scriptures. We do not wait till the weekend, holiday or till any facility is available. As prescribed in the Vedas. I believe in the right way to perform pujas and rituals on exact time.
Otherwise the results are minimized and it becomes more of a social gathering and merry making, rather than pure devotion with blissful merry making."
Dr. Gupta concluded.


With
infinite gratitude,
Sarita Gupta

"Bridging The Generation Gap By Practicing Karate"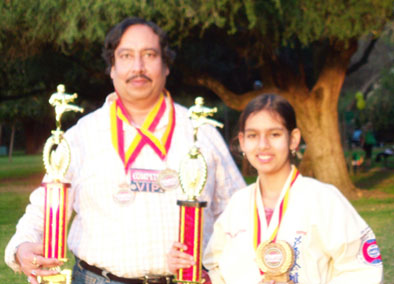 The Gupta family's journey to Zen started when Miss. Hersheeta Kumari Gupta was introduced to traditional martial arts of Ashihara Karate, while being a toddler. "It's fun. It's hard and fun at the same time. My father is my sensei and teaches me the best he can., " says the Special Ambassador of Ashihara Karate International, Hersheeta Gupta. "When I was in pre-school, I would fall down and my father felt sad. One day he decided to teach me how to avoid injuries by breaking the fall", reminiscences 4th grader Hersheeta. " Since then I never got injured even when I fall during my basketball practice. I instinctively know how to fall right"

In this high tech world Miss Hersheeta Gupta does not need a joystick to unleash a punch or a kick. Her karate skills are not tied to a game console with TV screen , ipod or such modern gadgets that are creating couch potatoes. Instead she has practiced hard in various environments.

The 10-year-old gifted student who has also won Chess tournaments. She believes in the practice of Karate and Yoga than being on artificial gadgets most of the time. Her father Sensei Gupta is also a Yogi and teaches her daughter the delicate techniques of his system of Karayoga.

Hersheeta's biggest inheritance will be the knowledge, samskaras, training and discipline.

Sensei Dr. Sunit Kumar Gupta who is a Spiritualist by profession helps his clients through his deep knowledge of religion, astrology, tantra and Vedic Sciences. He continues on this journey by providing consultations and being a motivational speaker with SBDC and SBA.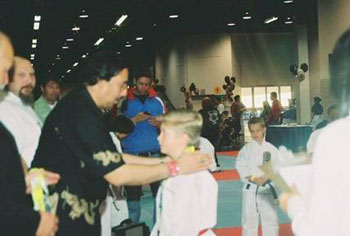 Sensei Dr. Gupta had the honor to be one of the center judges at the Disney's Martial Arts Tournament held in Anaheim ,California (picture above) on February 15th through 17th. Hersheeta Gupta also had the privilege to be the official Timekeeper. At this Disney, Dreamland, for some dreams were manifested in the form of Karate Trophies, as Sensei Gupta handed awarded the winners.

"We are proud to handover these children the knowledge and discipline of martial arts. I feel fulfilled when I present the prize to the present generation for their dedication.", mentioned Sensei Gupta.

One of the biggest and spectacular events of the millennium was held in the Ontario Convention Center during the weekend of February 29th through March second. Compete World Class Martial Arts Championship of Martial Arts, organized by Shihan Mohamad Jahan Vash and Mrs. Amanda Jahan Vash of Red Dragon Karate.

Martial Artists of all ages, from all over the World participated in this 3-day event.

Gupta family had the honor to participate and officiate in the Compete Tourney. Sensei Dr.Gupta competed in Sparring, Self Defense and Forms won one trophy and two medallions. He was also the judge in other divisions.

Miss Gupta competed in similar categories and won a trophy and medallion. She astounded the judges and audience with her control of breathing while performing "Tensho Ibuki Meditiative Kata". This is a traditional black belt form but Miss. Gupta had the courage to show this form being a green belt with golden bar.

Roar of applause echoed the auditorium when the father and daughter duo showed simple but sophisticated moves of self defense to win the trophy. " In the present time there is hardly any moment where we don't hear about the child abduction or assault. We must teach our children the self-defense techniques to fight against the epidemic of this crime. I will celebrate the day when I don't hear any such news. " commented Sensei Gupta.

Mrs. Sarita Gupta was an official scorekeeper for selected divisions. Mrs. Gupta acted as a great manager as well. Helping the Karate family managing there schedule, equipment, pictures and meals.

Sensei Dr. Gupta is the Chairman for Ashihara Karate International in N. America claims
Karate Kids who can learn to pay attention to the karate instructions can become better listeners in the classroom, gain confidence and are better equipped to resist the temptations of bad company, drugs, and the social evils.

Ashihara Karate International has over 50,000 students all over the World. 30,000 of these students are in India only.

Sabaki is the essence of Ashihara Karate.
Many martial art systems use the term sabaki with the meaning "movement" or "to move".

In Ashihara Karate we combine defense and offence into one. The soft overcomes the hard.

Sabaki especially helps children, women and people with lighter physique against a heavier opponent. Also it conserves energy. Students fight more with their mind than their brutal physical force.

To know more about Ashihara Karate U.S.A. Please call (909) 868-7334 or visit:
www.sunitgupta.com www.ashiharausa.org

Classes of A.Karate and Karayoga are held in YMCA Diamond Bar, Chino Hills and Pomona.

The COMPETE Championships

"COMPETE is the biggest Championship among all three in which we participated this year."
Concluded Zen Master Gupta with fractured rib "Everything went well except for the fact
that the judges made blunders. I myself was too hesitant to participate going through the
bitter experiences in prior tournaments. Yet, was requested, encouraged and convinced to compete after attending the intensive workshop for Judges and officials where we were promised that any accessive contact will result in disqualification. Look what happened, during my sparring bout multiple time the opponent did accessive contact. I protested to the judge but the amateur young lad was not convinced at all, even when I had fractured rib. "

Gupta continued narrating his bad experience " I felt being backstabbed and ridiculed. I could have kicked his butt to share the taste of full contact and could have done the same to my opponent since I am from Budo Full Contact Strongest Karate background. It would not have reflected what I have learnt in decades. I showed my character and stayed within rules without injuring or disrespecting anyone. I bet I would have been the Grand Champion. I did not want to create a scene like other competetors did few minutes ago creating Havoc among the audience and organizers. Unfortunately, same misjudgements happened with me and my daughter in other divisions. Some of the foolish judges did not have a single clue about what they were judging.
They should have disqualified my rival. In the Traditional forms, they should have known the tradition. One of the judges reflected his ignorance of traditional kata when he explained that my hand should have been on my waist instead of chest.. God knows how he became the judge?. ."

"My message to all the organizers all over the World : They try to do a great job. They should not ignore the importance of qualified judges and staff. In future they should keep the right judges
who are more educated and fare. Specially, in the adult divisions where various styles are competing. The ignorance of the center refree could be dangerous. Like one competetor came in a car and left the premises in an ambulance!"

Sensei Gupta suggested "Like we have seedings for the participant. We should have seedings for the judges also. It is not a joke when people are putting all-in and they recieve unfair scores and injuries. I am proud to say that during my judging I have been totally fair. In Disney's Tournament :

1. I refused to judge one Karateka performing a Kata, since his way of puching was totally different than I ever saw. I did not ridicule him with low score like it happened with me and my 10 years old more than four times.

2. I gave a score of perfect 10.0 to a competetor twice. Never saw this with any other judge?

3. I enforced the rules and disqulified a karateka for using accessive force. Resulting in other person winning a Gold later. Had I judged like the foolish judge then this fine fighter would have been eliminated in the first round and may have lived with his shame throughout his Life. We have to be fully responsible for our actions. This is the law of Karma."

"Oh God! You know what hurts more than the fractured rib is when you have given all to teach your daughter the right way of Karate. You are the "SUPERMAN" for her. Suddenly, she feels betrayed of the "SUPERMAN" portrayal. Her image of yourself gets tarnished . Being in her nievete Universe she inocently says "Papa! Your are the chairman for N. America. You got your butt Kicked?"

I tried to tell her "Darling, I am the Grand Champion in my heart. Despite getting my behind kicked
I set up an example to the entire martial arts community throughout the World. Hey! still we won so many trophies and Medalions. . . . . .."

B & G Club
Pomona, March 31
The Exuberant Rainbow reflected in the main hall of Boys and Girls of America- Pomona. When children wearing Boys and Girls T Shirts of various colours sat anxiously on the bleachers. They were attending the Weekly Rap Session. Something interesting was in the atmosphere today as Mr. Kenny Rodgers- The Director of Operations made a surprise announcement.
The suspense even started building up for 7 years old Ashihara Karateka, Miss Hersheeta Gupta, who was instructed to come in her Karate Gee (Uniform).
Suddenly, Mr Kenny Rodgers introduced Miss. Hersheeta Kumari Gupta to the audience and announced that she has been promoted to Green Belt with a Golden Bar.
Wow! she couldn't believe the news. She was just one step behind the Brown and so close for her dream coming true of being a Black Belt?
Then came the moment of further surprise. In presence of Mr. Victor Caceres- The Executive Director , Ms. Melissa Macias- Membership Co ordinator and Marketing Executive and Sensei Dr. Sunit Kumar Gupta- Chairman of North America for Ashihara Karate Kyokusai. Hersheeta K. Gupta was presented a Special Trophy. The Trophy was presented by Mr. Kenny Rodgers and Sensei Dr. Sunit K. Gupta to honor Hersheeta for being a Special Ambassador Of Ashihara Karate. Since, she gave multiple demonstrations and also broke 1" thick wooden boards.
The hall echoed the happiness of all the children through their applause.
Another Announcement was made that Sensei Dr. Sunit Kumar Gupta has been promoted to 4th Degree Black Belt. He is the only native of India to hold such a high rank and is also on the board of international body of Ashihara Karate International.
A.K.I. has over 50,000 students all over the World. 30,000 of these students are in India only.
Karate , as we all know, originated from India. Bodhidharma a Budhist Monk transformed the moves of traditional Indian dance "Bharat Natyam" into moves of self-defence. Karate, the art of fighting empty handed, to defend oneself from pirates and furious animals.
When asked about the difference between Ashihara Karate with other styles of martial arts. Sensei Gupta candidly explained.
Sabaki is the essence of Ashihara Karate.
Many martial art systems use the term sabaki with the meaning "movement" or "to move". Tai-sabaki for example means body movement and ashi-sabaki means footwork. Tachi-sabaki is used in kendo/iaido and means swordsmanship.
We interpret sabaki as control. This means that you will out manoeuvre your opponent with footwork and body movement to take control. We move to the opponent's "blind spot", the weakest side of your opponent, where he has most difficulties to counter you. The goal is to finish off your opponent quickly. This is one of the meanings of the "circle and the point" principle.
In Ashihara Karate we combine defence and offence into one. The soft overcomes the hard.
Sabaki especially helps children, women and people with weaker physique against a heavier oponent. Also it conserves energy. Students fight more with their mind than their brutal physical force.
The symbol of Ashihara Karate illustrates the principles of the most efficient movements of the human body. The human body has a natural inclination to move in circles and in three dimensions, this transposes to the movement of a sphere.
Sabaki movements mean that, rather than meeting an opponent head-on, you move around him, staying at his side or back, deflecting attacks and making yourself a difficult target. Learning the techniques and forms of this "risk free" karate is pure pleasure. Punch without being punched! Throw your opponent without going down yourself! In striving to achieve the maximum performance of the human body, the chances of being injured are reduced and the probability of victory correspondingly increases. This is the philosophy of Ashihara Karate.

To know more about Ashihara Karate U.S.A. Please call (909) 868-7334 or visit :
www.ashiharausa.org