India's 65th Independence Day

Indian Community of Southern California celebrated India's 65th Independence Day on August 12, 2012 at the Rupee Room Restaurant, Orange, CA. The beautifully decorated restaurant was filled to capacity. The special guests of honor were Congressman Ed Royce, Mayor Pro Tem Dr Prakash Narain , Hollywood Star Dr. Sunit Gupta with his wife ( Famous Actress) Sarita Gupta and business tycoon Sunil Tolani. Assemblyman Tony Mendoza couldn't come personally but sent his representative.

The program started with National Anthems of USA and India followed by lamp lighting by the guests of honor and Executive Committee Members. This was followed by chanting of mantra by Pandit Siddharth Pathak. Next, everyone observed one minute silence, to mourn for victims of the tragic Wisconsin Gurudwara massacre.

Dr. Sunit K. Gupta being presented a Certificate of Appreciation from the California State Assembly. Being honored by Mr. Dilip Butan (Chairman, FIA-SC and Indian Community of S. Cal). Mrs. Sarita Gupta supporting her husband in all his endeavors.

Dr. Gupta is appreciated for all his work in Indian Community including Jyotish (Astrology), Philanthropy, Entrepreneurship and Acting.

Dr. Sunit Gupta dancing in celeberation of India's Independence Day Festival.

Adoring Master Aryan . Blessing the future generation of NRI. Indians.

As a renowned actor and Co-Star of Outsourced, CSI: Miami and lead actor in Clear Wireless 4g Network. Dr. Sunit Gupta performed his special acts for the India's Independence Day . Sang the song "Ai Mere Pyare Vatan" from film Kabuliwala. Danced. Entertained audience with his comedy acts Two Hollywood Stars : Sunit Gupta dancing with his wife Sarita Gupta

"Prominent Indian Astrologer and Psychic Dr. Sunit Gupta being Recognized by The Mayor Antonio Vilarigosa and Acting Mayor Jan Perry".

Los Angeles Convention Center was the nucleus of Asian-American Business Community. During September 10th

Weekend was a Milestone in the International Business wherein buiness men and women came from all parts of the World.
This unique Exposition was brainchild of Kevin Kaul and was an exclusive event.

Mrs Jan Perry , Acting Mayor of Los Angeles inaugurated the US-ASIA Business Expo. She specially stopped at Dr. Sunit Gupta's booth and appreciated the Godly work Gupta has been doing for 27 years. She commented that in this time of fighting recession Gupta's input is very crucial for Small Businesses.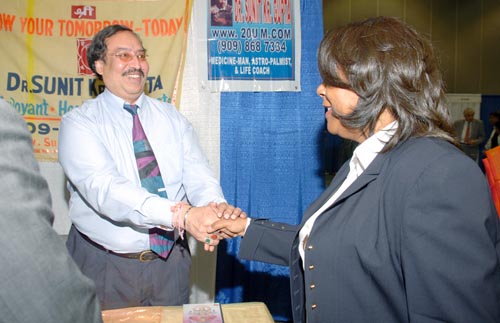 Pictures are courtesy of Mr. Paul Sukhwal of Holly-Cal Productions

During the 6th Annual FOSAAC Awards ceremony and Gala Dinner Reception. Digintories from all over the World were present. The Chief Guest was Mr. Subodh Kant Sahay- Chief Minister Of Jharkhand and Union Minister for food processing Industries in India. He personally complimented Sunit Gupta for his Spiritual Help in Business . He gave special thanks to him for teaching Ashihara
Karate to Elite (commandos) forces and bodyguards at Paloma, Jharkhand.

Antonio Villarigosa also spent time with Gupta and encouraged Gupta's work to train and consult the small business entreprenuers to achieve their goals during this difficult time.

Mr. Krishna Shah who is a well known name in Hollywood and Bollywood film industries also personally appreciated Dr.Gupts' work.

The USA-ASIA Expo was an Ice Breaking super event to strengthen the business relationship between Asia and America.

"Two Spiritualists exchanging the common cause of Universal Brotherhood"

September 13th , Norwalk

His Holiness Baba Hardev Singh ji of Sant Nirankari Mission radiated the rays of Love with Dr. Sunit Gupta the Vedic Astrologer and Spiritualist.

During the West Coast Samagam with more than 3000 attendees in the Mariott Hotel. Babaji was able to take some time out to discuss with Dr. Sunit Kumar Gupta about the Universal Denominator to help the Humanity . They did talk about Global Peace and religion being a force to unite people not to divide them.

Dr. Gupta was invited to the Nirankar Mission' s headquarters in India .