World Renowned Vedic Astrologer and Spiritualist
Predicts About Obama as President.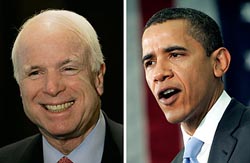 We had the privilege to interview Dr. Gupta about the forthcoming Presidential elections. We wanted to understand from his insight and knowledge of the unknown about the future of United States of America?

Dr. Sunit Kumar Gupta is World renowned astrologer, seer, metaphysician and a spiritualist.

Dr. Gupta's predictions have been carved in the stone. This is the 5th presidential elections in which he is predicting. Needless to say all his previous predictions have been on the dot.
Not just about the U.S. presidential elections but even his predictions about the affairs all around the World . Especially in the Indian sub-continet, wars, natural disasters, have been amazingly accurate since last 3 decades.

The most prominent/current was when in July of 2007. He made a bold prediction about Hillary Clinton's exit from the presidential race. When the media and the masses were predicting

Hillary to be the President. Gupta was the only person to stand on his words more than a year before Hillary lost to Obama.

' United States of America is under dark clouds since last 7 years. It has taken the entire World
down . Looking at the Natal Chart of America. It has one more year to go through this vicious
planetary cycle. Thereafter it will definitely be a Global leader again.

Four years ago when major newspapers published the predictions of Presidential elections by Dr. Sunit Kumar Gupta.

He mentioned in 2004 'Although I predict that George W. Bush will be the president again. I wish I am wrong and I personally do not like what the future holds for America in Bush's regime'

Dr. Gupta was absolutely correct about his foresight.

When asked about the 2008 elections. Gupta replied 'All the devious techniques will be implied in the forthcoming elections. Starting from child play till the extensive high- tech cheating. Everything is being seen by me on the
Crystal Ball.'

' It is a shame the way American politics is being played in the name of Democracy.
The superpower of the World. The Global leader of democracy has merely become a
mockery.'

Sharing his wisdom for the candidates. He mentioned :
' With the divine intervention. Barack Hoosein Obama still would become the President of America ; provided he is not victimized by the sway of devious conspiracy.

Obama's Vedic astrological natal chart is very strong to elevate him to the position of the president .

Not just for America but for the rest of the World he will prove to be a great leader.

He will be able to reinstate the reputation of United States of America in the eyes of the World.

His chart has lots of similarities with the birth chart of Lord Krishna-The Hindu God and incarnation of Lord Vishnu. Lord Krishna came on this planet to save us from the trecheros demonic king 'Kansa'.

May be we will see resolution of terrorist problems, when it becomes 'Obama Vs. Osama'

'The chart is also very similar to my chart.' candidtly admited Gupta.

Barrack has the tendency to be a stoic. Amidst all the luxuries of Life and reflects personal sacrifices to uplift the country. Unlike the present leaders Obama will work for the country than inflating his personal wealth.

He is a believer of President Kennedy's statement ' Do not ask what country did for you? But ask what you did for
the country.'

'Obama will be labelled and profiled with multiple names like terrorist, black, muslim, inexperienced, etc. His plaents will still let him achieve the Zenith. He will show the World how he can built up twin towers again from the ground zero. He will be able to diminish the Global Terrorism and could unvail the mystery of Al Qaida and Bin Laden.

Michelle Obama's time is difficult uptill april of 2009. She should be very carefull in her public appearances and must seek total protection.
The vice presidential contestant Mr. Joe Biden's Vedic Natal Chart reflects similarities to Bill Clinton's janamkundali.

Biden is very hardworking and can row his boat amidst all the adversities. He is a true patriot and looks at the country's interest than his personal wealth.

As a team Obama and Biden will be able to turn the tarnish image of America around. Although there is an astrological factor called 'Dwitiya-Dwadash Yoga' which may create some tensions between them but this yoga (combination) will give them mutual strength to fight for the cause too.'

'John McCain on the other side is also a great leader. His planets are also very strong but not as strong to be the President. If he continues then after May of 2009 the luck will chnge for him.' Dr. Gupta jus said this in the nutshell.

'Sarah Palin's chart is also very strong but she is there for herself. Looking at the 'Kaal-Sarp Yoga' in the secnod house and observing the group of planets in the 9th house, including combust Mars. It reflects the personality of being possesive.

As concieved and predicted by media. Palin will not be able to get the female votes. Specially from Hillary Clinton's loyal voters. The Ladies of Amercia are very intelligent and will use their discretion. Since, Lord of the 7th house is combust and other variables contribute to this factor that she will not be able to receive most of the female votes.

The Team of McCain and Palin will not be able to win . As mentioned before, unless they imply all the devious techniques to win.

Both the candidates are even going through the Saturn opposition. 'Bhaskar-Bhaskari Yoga' another very important variable of
Vedic Astrology is taking its toll from transit on both of these candidates. Needless to say Saturn transiting 8th from their Rasi will
bring lots of hurdles.

With his scholastic wisdom and depth of Vedic Sciences. Gupta boldly concluded ' Everything is related to the Karmic Cycle. Even the destiny of nation is the reflection of the Karmas the citizens and countrymen have done and are continously doing. The leadership, the economy, the chaos or happiness in a country are all results of the accumulated Karmas of the people.'

'Remember I am a non-political person. Neither democrat nor a republican. I am just a humanitarian. After spending weeks in meditation, calculations and studying the Astrological Phenomenon for the elections. Am just applying my God Gifted talents to make predictions. May be this is my role in the mystical cosmos of the Universe ! I would like to point one more remarkable prediction is India will become the best political friend and global partner of U.S.A.' shared Gupta.
Congrats. One more feather in Dr. Gupta's cap.
Under predictions this is what was written:

General Parvez Musharif is also going through the tough time and will not be in a good health and will be out from power soon.

Working on presidential elections but is tough task

Few more successful predictions again. Pakistan's elections are postponed as Predicted ONLY by Dr. Gupta in the entire WORLD. You can get the headlines from any newspaper
One of my friend who is also a veteran of PPP debated with me per constitution of Pakistan that the elections can never be postponed... I stood firm on my predictions.
Same thing happened when our present President Bush was running against Mr. Al Gore. I was live on a National Radio's Broadcast. The host warned me during the live interview on the election day and said "Well, I voted for Al Gore. He is going to be the President of United States. Dr. Gupta you still have time to recalculate and change your Prediction"
My blunt answer was "What good is the prediction if it has to be changed? Do you think I am a weatherman tossing the coin standing on top of Sears Tower and claiming if It is Head then it will rain otherwise clear sky?
My predictions are written on Stone. Understand? This is not a Mumbo Jumbo. It is a Vedic Science of Astrology and I am gifted by God. Bush will be our next President.
I even accused the Host being live on air. He is trying to woe the voters towards Al Gore and it is illegal to do so... mentioning I am neither Republican nor Democrat. Am just a messenger of God's message. I make thousands of predictions including individual's Life event and Stock Markets based on science not by flipping coins..."
Had also predicted about The Iowa Caucus saying Obama will be the winner and Mrs. Hillary Clinton is a looser and is trying to steal the charisma of President Bill Clinton. Although she is his "Ardhangini" that does not make a gas guzzler run by magic without any gas in it!
I am still working on the final outcome of the Presidential Elections. If Obama wins . Then it will be Obama Vs. Osama in International Politics. Still, would announce the winner with a exclusive interview on Media. If not CNN or BBC then may be on my own programs. "Psychics: Myth or Fact or L.A.Masala"
With Regards.
Sunit
28 December 2007
THE FATE OF LIONESS OF PAKISTAN!
The assassination of Benazir Bhutto was reflected on the crystal ball and predicted.
I personally was too absorbed with business and my personal daily tasks and could not post this prediction.
In Arabic the gifted person like us is called "Najumi" Benazir also candidly believed in Najumi. When she returned to Pakistan for elections. She was warned and she was advised to wear a Yellow Sapphire for her protection, which she did. Later, she removed the Gem. Yellow sapphire in the index finger. In palmistry the index finger belongs to the planet Jupiter. Mrs Benazir Bhutto's Jupiter was Marak - Grah (killer planet). This is how her fate took her away on Thursday. She was not wearing the ring shown in the picture above at the time of attack on her.

What is in the Crystal Ball about the future of Pakistan:

Pakistan is going through a rough time which will continue for next five years.

General Parvez Mussharif is also going through the tough time and will not be in a good health and will be out from power soon.

The forthcoming elections will be cancelled.

I had predicted in the past about Nawaz Sharif. When the entire World and the Astrologers were predicting his death by hanging (Fansi).

I had the courage to predict boldly that he will be a free man.
What Crystal Ball Reflects about India's Future:

India will be a leader in Asia. There will be new Indo-American Ties/Pacts.

Although very soon some senior leaders of India will pass away.

Specially , Shri Narendra Modi and Shri Manmohan Singh are going through a tough time Astrologically
In his career of Decades Dr. Gupta has made numerous accurate predictions. All these predictions are documented in the Media.
He has appeared on the following T.V. Stations: C.N.N., UPN 13, NBC, ABC, DOORDARSHAN. He is also accredited with his own ˝ Hour T.V. program : "Psychics : Myth or Fact ? This program is being telecast in U.S.A since last 12 years.
Dr. Gupta has also appeared on the Following Radio Stations:
KFWB, KFI, KMAX, KALI, KXMX, Etc.
He is also accredited with his own ˝ hour program "L.A.MASALA"
Some of the Predictions are :
9/11 World Trade Disaster : Dr. Gupta is the only one in the World to predict this sad event of this century.

George Bush as the President of United States

Bill Clinton's Victory (Twice)

Bill Clinton's release from being impeached

War in Afghanistan

Indo Pak Kargil War

The Gulf War

Nawaz Sharif's release from Death Sentence

The fate of Michael Jackson

The fate of O.J. Simpson

Earthquakes

Natural Disasters

The Stock Market

BJP Coalition coming into Power

Atal Vihari Vajpayee as Prime Minister of India

Chandrashekhar as Prime Minister of India

Gruesome Assassinations of Late Rajiv Gandhi, Indira Gandhi and Sanjay Gandhi

Fate of Indian Politicians

When Bejan Daruwala predicted about Osama Bin Laden. Dr. Gupta simultaneously replied to Times of India and very strongly contradicted Daruwala's following predictions:
Many More.
WHO WILL BE THE NEXT PRIME MINISTER OF INDIA?
THE BATTLE OF TITANS : NARENDRA MODI (BJP) AND RAHUL GANDHI (CONGRESS).
Dr. Sunit Kumar Gupta is the most famous vedic- astrologer, samudrik jyotishi and clairvoyant. Gupta enjoys a legendary reputation while predicting future of the country. All his predictions are carved on the stone and have been on the target since last 4 decades. He has correctly predicted seven presidential elections in USA and has predicted successfully about Indian elections since the time of Indira Gandhi.
Global news media enjoys the privilege of exclusive predictions of Sunit Gupta since last three decades. The Lok Sabha (Parliamentary) elections of India (the largest democratic country in the world) are being held now. Billions of people want to know from all time great astrologer and his predictions are :
Narendra Modi will win his parliamentary seat without any doubt. So will Rahul Gandhi. Both have same Rashi and similar planetary position in the chart.
Both of them are going through sade satti and aspects from Saturn and Rahu. Neech Saturn in Rajhul Gandhi's chart is questionable but Neech Bhanga is temporarily seen in his chart. He will win his seat.
About Anil Kejriwal : I wish him luck but his planets are not so strong at the moment. He is laying a foundation though. This foundation will help him and India in the next elections. The birth chart of Mr. Kejriwal reveals that he is a devoted son of the soil and will help our motherland genuinely. Because of the Kal Sarpa Yoga and the position of Mars and Saturn. He may have backstabbers around him who are called "Aastin Ka Saamp". Still with his strong leadership and deshbhakti he will be a good leader. His Janam Kundali does reflect that he is genuine and we need people like him.
Who Will be the Prime Minister : Dr. Gupta reveals : My angels are saying that it is difficult for Mr. Modi and Mr. Gandhi to be the Prime Minister. It seems there is another candidate who is going to suddenly erupt as Prime Minister of India. Modi and Gandhi have Raj Yogas but do not have Maha Yoga to be the Prime Minister at this time. Again, since they both have been very religious and prayers are being offered for them. These prayers will negate some of the malefic effects of the planets but might not give them such a boost to be the Prime Minister. Mr. Modi will still be a strong leader and will rise. It is just matter of time.
Also the planets in transit are reflecting a difficult time for Bharat. The destiny of India as a country is suffering too. There will not be a majority of one political party. It depends on the alliance with regional parties who will support the Prime Minister.
Since, Mercury, Saturn , Mars, Rahu , Ketu and even Devguru Brahaspati (Jupiter) are acting as malefic. I am sorry to say that The Non Hindu and the youth are the most important factors in this election. Their votes are going to be the deciding factors
Trinamool Congress will rise and will bag most of the seats from North East India. Although it may have some resistance from some BJP candidates like Mr. P.C.Sorcar (Jr.) and Shri Bappi Lahiri. Candidates who are primarily entertainers do have a good chance to win their seats. Still , the birth chart of Mamata Banerjee and her Trinamool Party will get a landslide victory.
Mamata Banerjee has the strongest chart among all the candidates I have consulted and have foreseen their future. She has the capability to lead India but depends if she wants to do so?
There is a very strong possibility of having an interim ministry which may be reshuffled in a short time. Jayalalitha and other regional leaders will come into national lime light.
During this elections the majority group of Indian citizens will learn their lessons and will look forward to be united in future. "I wish and hope, during my Life time, to see, the uni-some support for one specific candidates and political party As I see in history when citizens of India supported Netaji Subhash Chandra Bose by donating everything they had for the sole purpose of Victory" concluded legendary Gupta who has portrayed Prime Minister of India himself in the Hollywood movie "The Mark To Redemption". He was offered a seat to run in these elections but he opted out for personal reasons.
These are the nine predictions offered by Dr. Sunit Kumar Gupta. Since, he believes in the Nine planets and master numbers.
The results will reflect if Dr. Gupta's predictions are on target again as they have been in past four decades.
Gupta has a successful practice in Chino, California and is helping mankind under the banner of "A To Z Holistic Center". He offers personal readings and is practitioner of Ayurveda , Homeopathy and holistic healing. Details are available on www.atozcenter.info